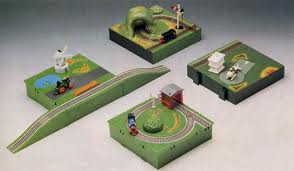 The Layout page is a page were you can photograph your TTTE&F Ertl Layout and upload it here! Just follow the rules while doing this.
1. No editing someones photo.
2. No using a photo without permission.
3. No deleting someones photo.
4. Make sure your photo has good quality and no camera flashes.
5. Do not post any inappropriate pictures!
6. Start a new heading on the page using the Heading 2 format and title the section "[Insert your name here]'s "Ertl Railway Layout".
7. Have fun :)!
Ad blocker interference detected!
Wikia is a free-to-use site that makes money from advertising. We have a modified experience for viewers using ad blockers

Wikia is not accessible if you've made further modifications. Remove the custom ad blocker rule(s) and the page will load as expected.