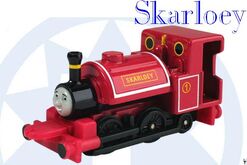 Skarloey
Number: 1
First Release: 1997
Skarloey, is a very chipper, hard worker, who shares his duties with Rheneas . He is a proper engine who is dedicated to the narrow line and always eager to help out when he's needed.
Bio
Owen Bell Artwork Card:
A very chirpy engine. He shares the workload with Rheneas and, like Rheneas, is a hard worker. He is a very proper engine, dedicated to doing his job well and always eager to work. He became famous by bringing a train full of passengers home through the most awful weather even though he seriously damaged himself.
Historical Note
Skarloey is based on a narrow gauge, industrial tank engine, built in England in the 1860s.
Models
Trivia
The 1997 ERTL Catalogue shows that Skarloey's prototype model was painted in his RWS Livery with Red Paint and Blue stripes as opposed to his TV Series model
Gallery
Ad blocker interference detected!
Wikia is a free-to-use site that makes money from advertising. We have a modified experience for viewers using ad blockers

Wikia is not accessible if you've made further modifications. Remove the custom ad blocker rule(s) and the page will load as expected.