Harvey
is a tank engine with a crane mounted on top of his boiler, which makes him look rather unusual. He is involved in repair, recovery and industrial jobs on the railway .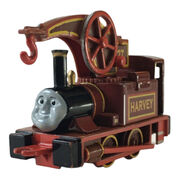 When Harvey first came to the island, the engines said he looked different and all the engines except Thomas did not trust Harvey, but when he rescued Percy after an accident with some Troublesome Trucks, they realised that his difference was what made him special. Since then, he has proved very useful, using his crane arm for maintenance, building and clearing up. He mainly works at Brendam and the yard, but his favourite place to be is at the Water Works, where he is said to live.
Since his addition to the railway, Harvey has helped after many accidents, but he couldn't do it alone, so Rocky was brought to help. 
Gallery
Edit
Ad blocker interference detected!
Wikia is a free-to-use site that makes money from advertising. We have a modified experience for viewers using ad blockers

Wikia is not accessible if you've made further modifications. Remove the custom ad blocker rule(s) and the page will load as expected.