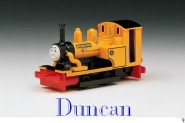 Duncan
Number: 6
First Release: 1996
Bio
Duncan means well, but will "Rock 'N' Roll" whenever the mood takes him. He tends to have a mind of his own which makes him obstinate and rude on occasions. He has a great big heart, but is a little misguided. Duncan is now a part of Sir Topham Hatt's narrow gauge railway of which he feels he is very overworked.
Historical Fact
Duncan is based on a narrow gauge, industrial tank engine built in Scotland at the time of the First World War.
Models
Duncan (1996)
Limited Edition Metallic Duncan (1998)
Gallery
Ad blocker interference detected!
Wikia is a free-to-use site that makes money from advertising. We have a modified experience for viewers using ad blockers

Wikia is not accessible if you've made further modifications. Remove the custom ad blocker rule(s) and the page will load as expected.