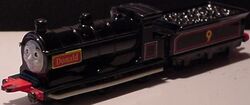 Donald
Number: 9
First Released: 1992
Donald, indentical twin of Douglas, loves to play practical jokes on unsuspecting outsiders.
Character Bio
Owen Bell Artwork Card:
Other than their name plaques and their numbers, Donald & Douglas are identical twins. They hate to be parted and enjoy a joke - especially when outsiders can't tell them apart. Their antics sometimes lead to trouble - but they're hard workers and particularly good at ploughing snow.
Historical Note
The twins are 0-6-0 tender engines based on the 812 Class, built for the Caledonian Railway.
Models
Model
Description
The Ertl Douglas model is a black steam engine with a long tender for coal and water. It was created only in a painted-on-metal face, and runs on six main wheels behind siderods, with six small wheels for the tender. The side windows are opened.
Measurements for the model

Scale (body length:length over buffers)

1:130

Wheels

Leading
0
Driving
4 x 11mm
Tender
2 x  7mm

Lengths (excluding plates - excluding buffers - all included)

Body
132mm

Running Plate

140mm
Total
148mm
Lengths

 (boiler/tank - cab and any connection - tender)

Body
54mm
Cab
17mm
Tender
61mm

Heights (from ground)

Body
32mm
Cab
37mm
Funnel
37mm

Widths

Body 

(boiler/tank)

19mm
Running Plate
27mm
Cab
23mm
Body Shared With
Donald
Face Shared With
Donald
Differences from Basis
Differences from Books
The model is colored black as opposed to the Donald & Douglas is the later series, being colored black & blue.
The model also does not have the name tag that later in the series, Donald & Douglas do have, meaning that this model replicates the TV series model as opposed the the Railway Series model.
Differences from TV Series
Differences between Versions
The 2003/2004 UK version has a different scale.
Models
Douglas (Normal, Painted Face) (1992)
Trivia
Donald is one of the few engines with a Metal face.
​Gallery
Ad blocker interference detected!
Wikia is a free-to-use site that makes money from advertising. We have a modified experience for viewers using ad blockers

Wikia is not accessible if you've made further modifications. Remove the custom ad blocker rule(s) and the page will load as expected.